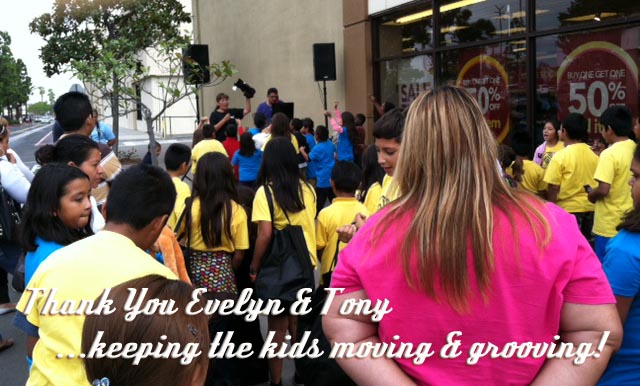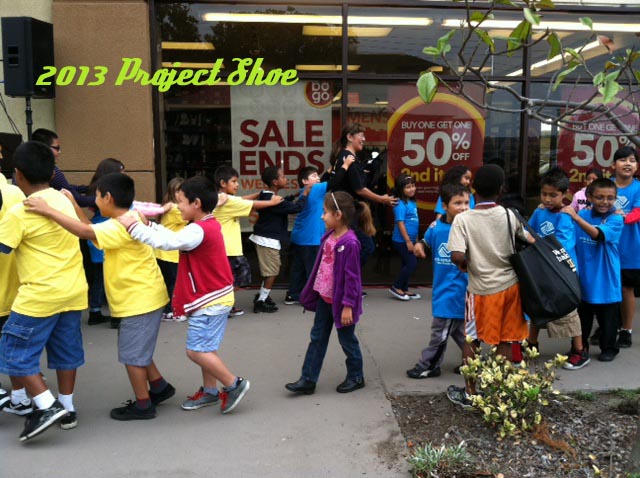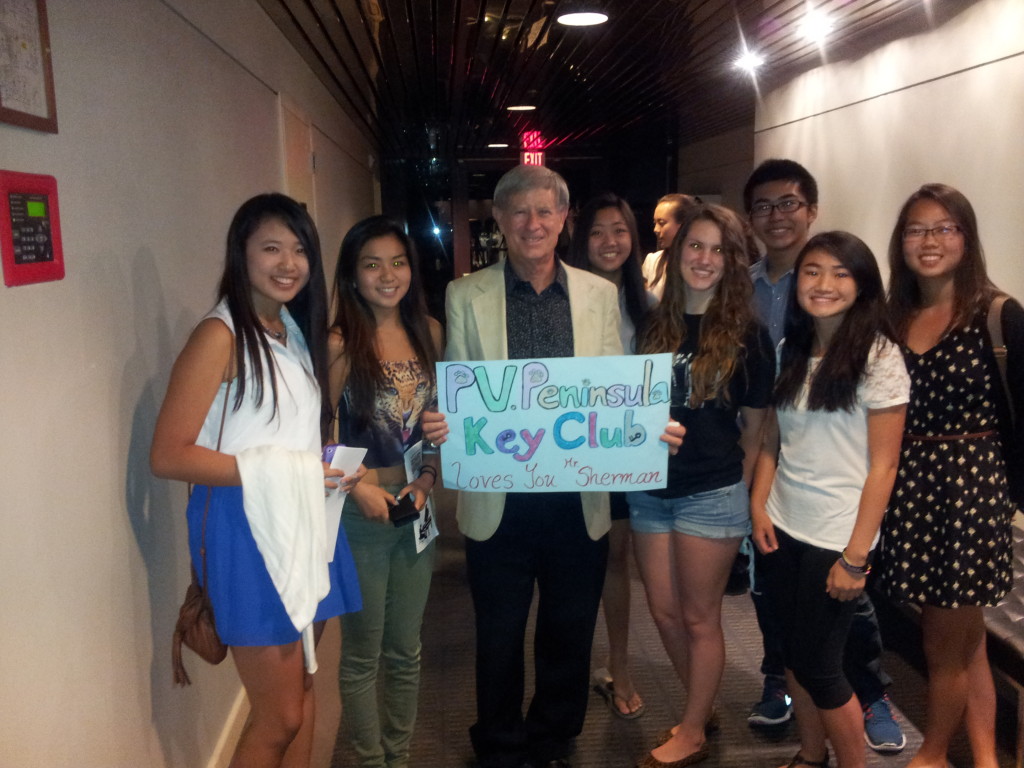 "I love my Key Club members. " Richard Sherman
"Hi Everyone,
I just wanted to thank the club for the concert support every year.  When I am looking at 400 tickets on my dresser
it is comforting to know that I can count on the club.  The Boys & Girls Club was there as well as Volunteers of
America members.  I had wonderful e-mails from them after the show.
I can't believe the turnout for the concert is larger every year with attendance of 400 people raising well over $10,000.  Next year will be benefit 
concert #50 on September 20, 2014 at the Armstrong.  Please save the date.  It will be special and emotional.
Thanks so much for your support every year.  We are back at the Holiday Inn on Thursday and Terranea on Saturday as usual."
KIWANIS CLUB OF ROLLING HILLS ESTATES
2013 SCHOLARSHIP AWARDS

Twenty-one scholarships were awarded by the Kiwanis Club of RHE on May 31, at an evening ceremony overlooking the ocean at the Los Verdes Golf Course. High school seniors from Palos Verdes and the surrounding community were selected for their academic achievement, service and what the club calls "heart." Students may apply for merit or for both merit and financial need. In addition, prior KRHE scholarship recipients who are doing well and who have continued financial need may apply for continuing scholarships.  The continuing scholar "Hall of Fame" is impressive. Since the inception of the continuing scholar program 4 years ago, the Hall of Fame includes: a BS and MBA graduate from MIT; a BS and MS graduate from Stanford; and a BA/BS graduate from USC.  All three are young women who will carry their Kiwanis mentorship forward.  One continuing scholar, who is earning two degrees from Georgetown and Columbia Universities, was a child who attended Project Shoe when she was in the second grade!  How time flies!  Who knew she would be an international scholar?
The Kiwanis Club of RHE awards ceremony is special for many reasons. One of the most important features is the special recognition of parents, grandparents, guardians and significant others of the recipients. The "families" receive a folder with a letter of recognition for the family's efforts, a copy of the student's biography to share with friends and family, and an heirloom copy of the program.  It is an evening to remember!
All of the scholarships are made possible by those who donate to our scholarships and to our other club charities. The Palos Verdes Half-Marathon, 5-K and other events provide the majority of funds for the KRHE activities. During this time of fiscal insecurity and economic crisis, it is important to remember that clubs like Kiwanis give back far more to the community than they receive.   THANK YOU TO ALL OF THE SPONSORS!

Mark your calendar and save the date for the Sunday April 28th fundraiser concert by the fabulous Richard Sherman to benefit the RHE club foundation treasury. It will be at St. Mark's Presbyterian Church in Lomita, with tickets a mere $25 per person for an afternoon of musical paradise.
CLICK HERE FOR MORE INFORMATION
Our Board of Directors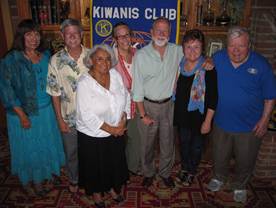 KIWANIS CLUB OF ROLLING HILLS ESTATES
2012 SCHOLARSHIP AWARDS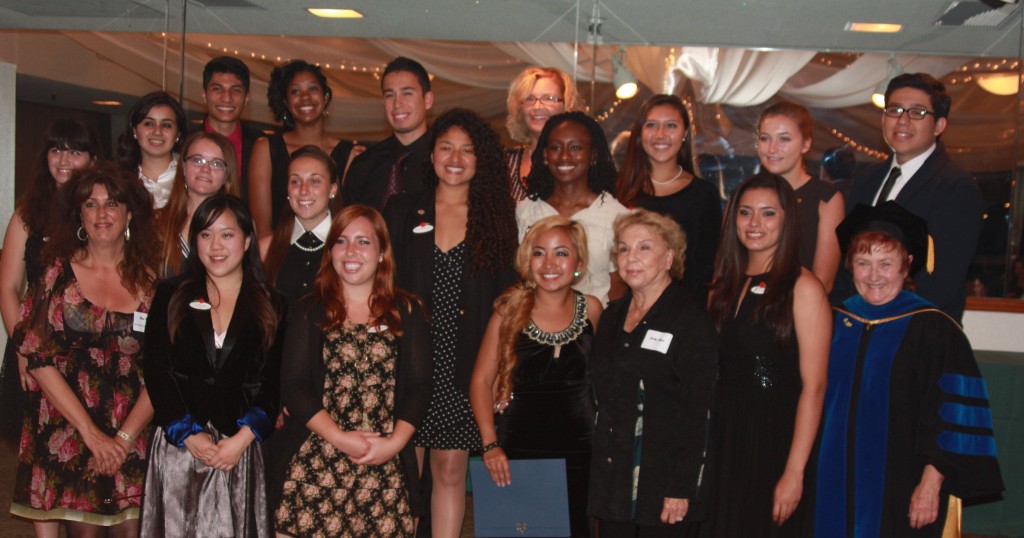 The Kiwanis Club of Rolling Hills Estates honored 22 high school seniors and continuing scholars at their dinner and awards ceremony on June 3, 2012. The Los Verdes Golf Course ballroom was the perfect venue for celebration of the recipients' academic achievement, community service and what the club likes to call "heart." Parents, significant others and students were congratulated on their past achievements and encouraged to continue their efforts in the future.
High school scholars from Palos Verdes, PV Peninsula, San Pedro, Narbonne, Phineas Banning, and the San Pedro Police Magnet High School were honored. Continuing scholars represented: California State University, Long Beach and San Francisco; Georgetown University; Massachusetts Institute of Technology; Rice University in Houston; Stanford University; the University of California at Berkeley, San Diego, Santa Cruz; the University of Southern California; and Wake Forest University in North Carolina.
The Kiwanis Club of RHE scholarships are made possible by the PV Marathon sponsors and donors in our community, including: The Jacky Glass Family; Unified Western Grocers; Retina Macula Institute; Morgan Stanley Smith Barney; The Palos Verdes Medical Group; Village Runner; Johannessen Trading Company; Medawar Fine Jewelers; Beach Cities Orthopaedic Group; California Water Service; Conoco Phillips; Julian and Carolyn Elliott; Peak Performance; Terry and Bill Szymczak, Preservation Partners; South Bay Orthopaedics; Torrance Orthopaedic; Diane and Adam Vancini; Ron and Shelley Johnston; and many others who have given generously to the Kiwanis mission of "Improving the world, one child at a time."

February 27th, 2012 in Torrance, CA – Richard Sherman and Kiwanis Division 19 Governor, Tim Mc Dannold honoring George Haddad FOR OVER 15 YEARS OF SERVICE to Our Club and LOCAL COMMUNITY. THANK YOU GEORGE!
FOR IMMEDIATE RELEASE:
The 2011 Marathon was a tremendous success! We're looking forward to 2012.  Why don't you join us!



If Becky McDonald can run the 5K (and finish) You can too!  (No George didn't run – he can hardly walk)


A group of HAPPY finishers –
No – John and Carol didn't run either!

More Marathon Pics Below

Project Shoe

About 100 Little Ones Got Shoes, Bookbags and books . . .
and had a GREAT Time!



Project Shoe is courtesy of the Kiwanis Club, Payless Shoe Source, our Sponsors Vons Foundation, PV Family Medical Group and PV Dermatology, and the Palos Verdes Library District




Gathering and waiting for it all to start




And we even hired a Clown!




I really like my new shoes (no Rori didn't get any)




I like mine too . . . and I also had two people to "serve" me!

Christmas Past

Kiwanis Club of Rolling Hills Estates Christmas Party (from Christmas past) — Includes our beloved departed members Joe Kelly and Cliff Welsh.


Kids and Kiwanians alike enjoying our 2004 Kids Christmas Party on December 11, 2004 — Photos courtesy of "Uncle" Derek Gable

Pizza and Chicken for all — and best of all
Santa gives all the kids presents (about 30 in all)


Marion Higgins visits the Kiwanis Club of Rolling Hills Estates


Marion Higgins, 111 years young with son Horace at a Kiwanis Luncheon Meeting in 2004.  She went to a better place in 2006 but she was more with it than most of (all of?) us.

More Palos Verdes Marathons

Runners enjoying a good early morning start at the Annual Kiwanis Palos Verdes Marathon


They're still Running – and going strong!


More Marathon Pics

Not a bad sight to see when you're starting to run a Marathon


For some folks, the Marathon is a real Family Affair


The beautiful view just doesn't stop.


Hooray!  We told you we could do it!

Come and join us for this year's Palos Verdes Marathon!